STORE ONLY SOLD OUT
Afternoon Tea Set
STORE ONLY SOLD OUT
Afternoon Tea Set
New Release:Sonny Angel Special「Afternoon Tea」Set
Sonny Angel prepares to fly to a warm place for a sweet afternoon tea this spring!
Online Store only , available from Jan 31.
Set include:
Sonny Angel Afternoon Tea Series × 2Pcs
Sonny Angel Jeju Series × 1Pcs
Sonny Angel Seoul Series × 1Pcs
Sonny Angel Drawstring Bag Yellow × 1Pcs
*available while stocks last
※Sonny Angel Special「Afternoon Tea 」Set will be released on 12PM,31st JAN,2023.
※Please note: Release date and product specifications may be changed, postponed or canceled without notice.
■Sonny Angel Afternoon Tea Series
The "Afternoon Tea series" figures are gorgeously designed in pastel colors. The series includes three types of cupcakes, cherry pudding, and herbal tea, plus one secret that will appear randomly.
The secret figure, "Happy Little Bear," is Sonny Angel's first "flocked" figure.
The fluffy fur is soft to the touch and adds to the charm of Sonny Angel.
Total lineup of 3 different figures + Secret figures.
◆ Package size:Approx.W50×H102×D45/mm
■Hello! Jeju Series
■Seoul Series
Order Limit
Up to 2 Sets.
(*Please be aware that the orders with duplicated Accounts, names, address and phone numbers may be cancelled without prior notice.)
You can earn the following SA points via the official SA app for this item.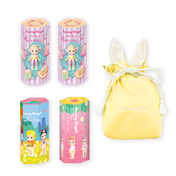 Afternoon Tea Set
SA Point 4
If you register as a new member of the SA App using the same email address as the login email address of this official online store, you will be able to accumulate SA Points in the App.Earn SA points for purchases at the Sonny Angel Official Store which you can redeem for wonderful prizes!
For more details, click here>>
Please see before making a purchase
OFFICIAL SNS