Summer Island Holiday Clowfish
Summer Island Holiday Clowfish
Enjoy the resort mood on the island ♪
New Release:「Sonny Angel mini figure - Summer island Holiday-」
Blue sea. White sand. Brilliant sun. Summer has arrived.
The theme of this series is "Angel Holidays on a Tropical Island".
Sonny Angel has landed on a tropical island, with surfboard on his back, on the palm-fringed beach, about to start surfing.
 You could enjoying this summer with Sonny Angle too!
135% of the size of a regular blind box. Pendestal included.
The package presents a relaxed world view of the South Island.
The pedestal made by magnet , can stably fix the figure. The surfboard is removable, you can also let sonny angel stand on a surfboard.
■『Sonny Angel -Summer Island Holiday-』Line up
Morning Glow
An expression full of anticipation in the light of the sunrise,He can't wait to hit the sea.
Sunset Glow
He was having so much fun, the skin was tanned but still cute.
The release date in Hong Kong/Macao is scheduled for 7th July, 2022.
※Please note: Release date and product specifications may be changed, postponed or canceled without notice.
◆ Weight:Approx. 209.6g
◆ Material:ATBC-PVC
◆ Size:Approx. W50×H115×D70/mm
◆ Package size:Approx. W160×H225×D175/mm
◆1PCS:HK$280
Order Limit
Up to 2 PCS.
(*Please be aware that the orders with duplicated Accounts, names, address and phone numbers may be cancelled without prior notice.)
You can earn the following SA points via the official SA app for this item.
Morning Glow
SA Point 5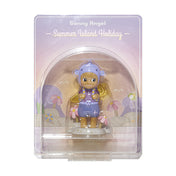 Sunset Glow
SA Point 5
If you register as a new member of the SA App using the same email address as the login email address of this official online store, you will be able to accumulate SA Points in the App.Earn SA points for purchases at the Sonny Angel Official Store which you can redeem for wonderful prizes!
For more details, click here>>
Please see before making a purchase
OFFICIAL SNS