Discontinued
Summer Festival Special Set
Discontinued
Summer Festival Special Set
Sonny Angel Summer Festival Special Set is available today!
Sonny Angel is wearing a Morning Glory ready to go to a summer party!
Are you nostalgic for the Japanese summer festivals with the goldfish and the fireworks in the background?
Let Sonny Angel accompany you to enjoy this summer!
Summer Festival Set at Official Online Store

Set include:
1.Sonny Angel Summer Festival Blind Box 1pcs
2.Sonny Angel Limited Series Blind Box 2pcs(Random)
3.Jerrybeans mini towel
4.Summer Festival mini bag 1pcs
*available while stocks last
Total lineup of 4 different figures + Secret figures.

Order Limit
Up to 2 sets.
(*Please be aware that the orders with duplicated Accounts, names, address and phone numbers may be cancelled without prior notice.)
You can earn the following SA points via the official SA app for this item.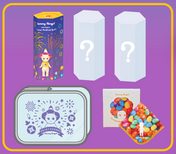 Summer Festival Special Set
SA Point 3
If you register as a new member of the SA App using the same email address as the login email address of this official online store, you will be able to accumulate SA Points in the App.Earn SA points for purchases at the Sonny Angel Official Store which you can redeem for wonderful prizes!
For more details, click here>>
Please see before making a purchase
OFFICIAL SNS