Discontinued
Sonny Angel Refreshing Cold Drink Set
Discontinued
Sonny Angel Refreshing Cold Drink Set
A special summer with Sonny Angel ♪
New Release:「Sonny Angel Refreshing Cold Drinks Set 」
Sonny Angel with a fresh fruit headgear.
SA summer limited set is here!
The drink illustration designed on the T-shirt and the gradation give a cool impression.
Set include::
1.Sonny Angel Refreshing Cold Drink blindbox 2pcs
2.Sonny Angel Marine Series blindbox 2pcs
3.Cable Bite Ver.3 1pc (Random)
*available while stocks last
Sonny Angel Refreshing Cold Drink
Total lineup of 4 different figures + Secret figures.
Order Limit
In order to allow more customers to buy products fairly, each customer is limited to two sets
(*Once the customer is found to use the same name, delivery address, phone number, the order will be automatically cancelled)
You can earn the following SA points via the official SA app for this item.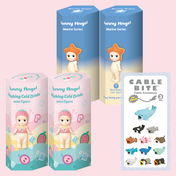 SA Refreshing Cold Drink Set
SA Point 4
If you register as a new member of the SA App using the same email address as the login email address of this official online store, you will be able to accumulate SA Points in the App.Earn SA points for purchases at the Sonny Angel Official Store which you can redeem for wonderful prizes!
For more details, click here>>
Please see before making a purchase
OFFICIAL SNS