In commemoration of the release of the "Hello Jeju Series",
the "Sonny Angel mini figure Seoul Series" is available in limited quantities.
Sonny Angel wearing a strawberry headdress, which is also the mascot of "Sonny Angel Terrace Seoul", will gently color your daily life.
You can see adorable details such as strawberry flowers printed on the headdress and other motifs inspired by the cake.
6 kinds + 2 secret
■『Sonny Angel mini figure Seoul Series』LINE UP
Hello!

Time for a Break

Cafe Time

Love Sweets

Yummy

Welcome!

I ♥ SEOUL ※Secret

Seoul Strawberry Robby Angel ※Secret

◆ Product weight:Approx.30~37g
◆ Product material:ATBC-PVC
◆ Product size:Approx. W40~43×H76~96×D26~37/mm
◆ Package size:Approx. W50×H102×D45/mm
◆ Assort Box size:Approx. W160×H107×D94/mm
◆1 Blind Box : HK$72
◆1 Assort Box (Contains 6 Blind Boxes) : HK$432
(*Please note that not all types may be available even when purchased in the assort box.)
Order Limit
Up to 4 Assort Boxes (24 Blind Boxes) .
(*Please be aware that the orders with duplicated Accounts, names, address and phone numbers may be cancelled without prior notice.)
You can earn the following SA points via the official SA app for this item.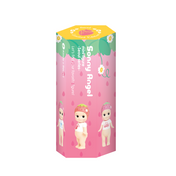 Seoul Series
SA Point 1
If you register as a new member of the SA App using the same email address as the login email address of this official online store, you will be able to accumulate SA Points in the App.Earn SA points for purchases at the Sonny Angel Official Store which you can redeem for wonderful prizes!
For more details, click here>>
Please see before making a purchase
OFFICIAL SNS