SOLD OUT
Sonny Angel Hippers
SOLD OUT
Sonny Angel Hippers
New Release: "Sonny Angel HIPPERS", a figure that decorates your items!
A new figure series, "HIPPERS" has arrived from Sonny Angel!
Hippers are a completely new decorative figure that can be attached to a computer or photo frame.
When attached to your items, Hippers will gently look after you.
The lineup includes 12 figures + secret Sonny Angels from our animal series.
"HIPPERS" feature a cute behind, adorable poses and warm smiles.
Hippers can be attached to mobile devices such as smartphones, to personal computers and small items around your desk such as pen stands and photo frames. No matter where you choose to put your Hipper, it will bring delight to your daily life.
* The adhesive sticker attached to the figure can be used repeatedly by moistening it with water.
◆ Product weight:Approx.25~29g
◆ Product material:ATBC-PVC
◆ Product size:Approx. W30~48×H75~98×D25~35/mm
◆ Package size:Approx. W50×H102×D45/mm
◆ Assort Box size:Approx. W201×H107×D135/mm
◆1 Blind Box : HK$65
◆1 Assort Box (Contains 12 Blind Boxes) : HK$780
(*Please note that not all types may be available even when purchased in the assort box.)
Order Limit
Up to 2 Assort Boxes (24 Blind Boxes).
(*Please be aware that the orders with duplicated Accounts, names, address and phone numbers may be cancelled without prior notice.)
You can earn the following SA points via the official SA app for this item.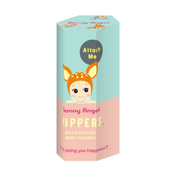 Sonny Angel Hippers
SA Point 1
If you register as a new member of the SA App using the same email address as the login email address of this official online store, you will be able to accumulate SA Points in the App.Earn SA points for purchases at the Sonny Angel Official Store which you can redeem for wonderful prizes!
For more details, click here>>
Please see before making a purchase
OFFICIAL SNS