Discontinued
Sonny Angel QIXI Display Kit
Discontinued
Sonny Angel QIXI Display Kit
New Release:『Sonny Angel Display Kit-Lovers meetting in the stars-』
Sonny Angel and Robby Angel sail across the star river with a tiny pink paper boat, taking you to meet your love.
『Sonny Angel Display Kit-Lovers meetting in the stars-』 includes a Sonny Angel and a Robby Angel.The paper background needs to be assembled by yourself.
※The release date in Hong Kong/Macao is scheduled for 25th July, 2022.
※Please note: Release date and product specifications may be changed, postponed or canceled without notice.
◆PackageSize:Approx.W220×H40×D165/mm
◆Innner Size:Approx.W200×H75×D150/mm
Order Limit
Up to 2 PCS.
(*Please be aware that the orders with duplicated Accounts, names, address and phone numbers may be cancelled without prior notice.)
You can earn the following SA points via the official SA app for this item.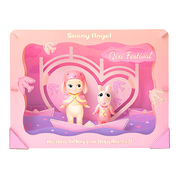 QIXI Display Kit
SA Point 4
If you register as a new member of the SA App using the same email address as the login email address of this official online store, you will be able to accumulate SA Points in the App.Earn SA points for purchases at the Sonny Angel Official Store which you can redeem for wonderful prizes!
For more details, click here>>
Please see before making a purchase
OFFICIAL SNS