SOLD OUT
Plush Collection -Cuddly Bear-
SOLD OUT
Plush Collection -Cuddly Bear-
The first Sonny Angel plush toy is now available. This first Sonny Angel plush is wearing a cute bear costume. New Release:「Sonny Angel Plush Collection -Cuddly Bear-」
Sonny Angel's plush toy "Plush Collection" is now available. The first is Sonny Angel in a cute bear costume. The size is about 26 cm. It's a size that makes you want to hug it on your lap. The plush toy has a refreshing and faintly soft "angel scent". Not only the appearance but also the scent will heal you.
It features a fluffy coat that is comfortable to the touch. Please stroke it a lot. Sonny Angel holding a heart that says "hug me?" in both hands. You will feel so much love that you will want to hug it.
Sonny Angel's arms and heart-shaped mascot are fixed with magnets, so the heart can be removed. The joints of both arms can be moved freely, so you can pose freely. Please try to find a cute pose of Sonny Angel.
The button on the chest accentuates the design. We don't forget Sonny Angel's trademark wings on his back. Combined with the round and fluffy tail, the back is also very cute.
■「Sonny Angel Plush Collection -Cuddly Bear-」Lineup
White Bear
The combination of clean white and pink that makes you feel happy makes it so sweet.
Brown Bear
A mature and cute brown color with a calm impression that is easy to match with your room as an interior.
The package is a gift box specification where you can write a message, so it is also recommended as a gift. You can freely write your name, the nickname of the plush toy, and the date you received the plush toy on the attached card.
※On sale from 31th, March 2023.
※As for the release and specification of the product, it may be changed, postponed or canceled due to various circumstances. Please note.
◆ Product weight:Approx.496g
◆ Product material:Polyester、Magnet、PVC、EVA
◆ Product size:Approx.W230×H260×D190/mm
◆ Package weight:Approx.744g
◆ Package size:Approx.W215×H285×D180/mm
◆ 1BOX:HK$250
Order Limit
Up to 2 Boxes each.
(*Please be aware that the orders with duplicated Accounts, names, address and phone numbers may be cancelled without prior notice.)
You can earn the following SA points via the official SA app for this item.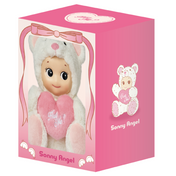 Plush Collection -Cuddly Bear- White
SA Point 4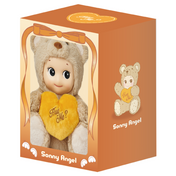 Plush Collection -Cuddly Bear- Brown
SA Point 4
If you register as a new member of the SA App using the same email address as the login email address of this official online store, you will be able to accumulate SA Points in the App.Earn SA points for purchases at the Sonny Angel Official Store which you can redeem for wonderful prizes!
For more details, click here>>
Please see before making a purchase
OFFICIAL SNS