New Release:「Sonny Angel mini figure Pet Treats」
Sonny Angel has landed in a world of cute and adorable sweets. Introducing a puppy with design recalling jelly and a cat with a cookie motif. Both are cute with in their pants and suspenders made of confections. And both are wearing fashionable gloves and scarves. The colorful and eye-catching designs will bring you comfort. Arrange them on your table and spend a delightful tea time with Sonny Angel.
■『Sonny Angel Pet Treats』Lineup
Jelly Puppy
Sonny Angel's pants are shaped like a pot of jam and are adorable with refreshing mint and blueberry jelly coloring. The design is somewhat sophisticated but you'll notice he has innocent, round puppy eyes.
Cookie Cat
Sonny Angel's pants are made from two different types of cookies. You can almost feel the crispness of the waffle cookies. Cute pastel tones gives this Angel a gentle impression.
Use the blister pack to display these special figures as received or pop them out and exhibit Sonny Angel in your kitchen, on your desk or anywhere around your home. Be careful though because admiring Sonny Angel Pet Treats might make you hungry for sweets!
◆ Product weight:Approx.33~34g
◆ Product material:ATC-PVC
◆ Product size:Approx.W44×H76×D26~8/mm
◆ Package size:Approx.W110×H155×D55/mm
◆ Package weight:Approx.64g
Order Limit
Up to 2 PCS each.
(*Please be aware that the orders with duplicated Accounts, names, address and phone numbers may be cancelled without prior notice.)
You can earn the following SA points via the official SA app for this item.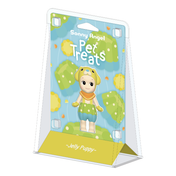 Pet Treats - Jelly Puppy -
SA Point 3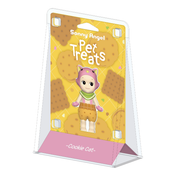 Pet Treats - Cookie Cat -
SA Point 3
If you register as a new member of the SA App using the same email address as the login email address of this official online store, you will be able to accumulate SA Points in the App.Earn SA points for purchases at the Sonny Angel Official Store which you can redeem for wonderful prizes!
For more details, click here>>
Please see before making a purchase
OFFICIAL SNS