NEW SOLD OUT
It's Bananas!
NEW SOLD OUT
It's Bananas!
The perfect summer with a tropical vibe - the sweet and adorable Sonny Angel mini figure. New Release "It's Bananas"!
With its unique design and irresistibly cute expression, it's sure to bring joy and comfort to anyone who sees it.
The bright and colorful design will instantly put a smile on everyone's face. Let the cheerful imagery of bananas and vibrant colors brighten up your everyday life.
Available in a choice of three colors: yellow, pink, and green. The blister package allows you to choose what is inside.
『Sonny Angel mini figure It's Bananas!』will be released on 15th June, 2023.
◆ Product weight:Approx.35g
◆ Product material:ATBC-PVC
◆ Product size:Approx.W40×H81×D32/mm
◆ Package size:Approx.W150×H154×D39/mm
◆ Package weight:Approx.63g
◆ 1PCS:HK$148
Order Limit
Up to 2 PCS.
(*Please be aware that the orders with duplicated Accounts, names, address and phone numbers may be cancelled without prior notice.)
You can earn the following SA points via the official SA app for this item.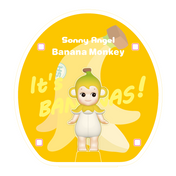 Banana Monkey - Yellow -
SA Point 3
Banana Monkey - Green -
SA Point 3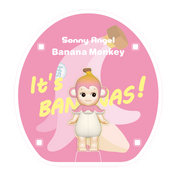 Banana Monkey - Pink -
SA Point 3
If you register as a new member of the SA App using the same email address as the login email address of this official online store, you will be able to accumulate SA Points in the App.Earn SA points for purchases at the Sonny Angel Official Store which you can redeem for wonderful prizes!
For more details, click here>>
Please see before making a purchase
OFFICIAL SNS