Sonny Angel BOBBING HEAD -Cloud Style-
Sonny Angel BOBBING HEAD -Cloud Style-
Sonny Angel is shaking his head quietly while sitting on a cloud! Any day, anywhere… Sonny Angel nods and smiles to make your day brighter!
New Release:『Sonny Angel BOBBING HEAD -Cloud Style-』
The long-awaited, new series of the popular Bobbing Head is now available!
This series features cute pastel-colored designs with the theme of "The Sky." The T-shirts he wears have sky patterns such as stars, moon, and a rainbow.
You feel calm as you look at Sonny Angel, who gently watches from above the clouds.
Sonny Angel's head sways quietly either in your car or in your room. So cute!!
No matter where you put your Sonny Angel Bobbing Head, you will get pleasure from his companionship.
When displayed side by side with the Sonny Angel minifigures, he is sure to bring you happiness!
◆ Product weight:Approx.53~56g
◆ Product material:ATBC-PVC
◆ Product size:
 Cloud Rabbit Approx.W65×H133×D60/mm
 Cloud Sheep Approx.W65×H103×D60/mm
 Cloud Cow Approx.W65×H105×D60/mm
◆ Package size:
 Cloud Rabbit Φ80×H140/mm
 Cloud Sheep Φ80×H115/mm
 Cloud Cow Φ80×H115/mm
◆ 1Box:HK$120
Order Limit
Up to 2 pcs each .
(*Please be aware that the orders with duplicated Accounts, names, address and phone numbers may be cancelled without prior notice.)
You can earn the following SA points via the official SA app for this item.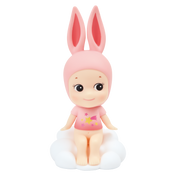 Sonny Angel BOBBING HEAD -Cloud Style- Rabbit
SA Point 2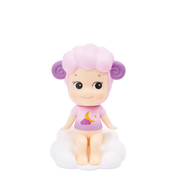 Sonny Angel BOBBING HEAD -Cloud Style- Sheep
SA Point 2
Sonny Angel BOBBING HEAD -Cloud Style- Cow
SA Point 2
If you register as a new member of the SA App using the same email address as the login email address of this official online store, you will be able to accumulate SA Points in the App.Earn SA points for purchases at the Sonny Angel Official Store which you can redeem for wonderful prizes!
For more details, click here>>
Please see before making a purchase
OFFICIAL SNS