SOLD OUT
BIRTHDAY GIFT -Bear-
SOLD OUT
BIRTHDAY GIFT -Bear-
Make every birthday more special by celebrating with Sonny Angel.
In this new series, Sonny Angel is wearing a much-loved plush bear costume!
New Release: 『Sonny Angel BIRTHDAY GIFT -Bear-』
This is a new BIRTHDAY GIFT series!
Sonny Angel, wearing a plush bear costume, will help to celebrate your birthday or your friend's special day with balloons, cakes and presents.
Sonny Angel is sitting like a plush bear sweetly presenting gifts.
He wants to convey the sentiment, "Congratulations".
His warm smile and tender pose let you know that Sonny Angel is gently watching over your feelings.
There is a space on the top of each package where you can write the name of the person to whom you will give this special BIRTHDAY GIFT.
Share your love of Sonny Angel with those you love.

※『Sonny Angel BIRTHDAY GIFT -Bear-』 will be released on 29th January, 2021.
※All members can make preorder from 12PM January 28.
※Orders Will be Shipped on January 29.

◆ Products Name:BIRTHDAY GIFT -Bear-
◆ Weight:Approx. 37~41g
◆ Material:ATBC-PVC
◆ Products Size:Approx. W40~50×H75×D33~45/mm
◆ Package Size:Approx. W60×H93×D51/mm
◆ AssortBox Size:Approx. W240×H98×D157/mm
◆ 1BlindBox:HK$65
◆ 1AssortBox:HK$780
(*Please note: Release date and product specifications may be changed, postponed or canceled without notice.)
Order Limit
Up to 24.
(*Please be aware that the orders with duplicated Accounts, names, address and phone numbers may be cancelled without prior notice.)
You can earn the following SA points via the official SA app for this item.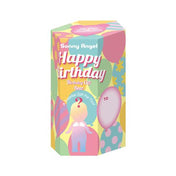 Birthday Gift -Bear-
SA Point 1
If you register as a new member of the SA App using the same email address as the login email address of this official online store, you will be able to accumulate SA Points in the App.Earn SA points for purchases at the Sonny Angel Official Store which you can redeem for wonderful prizes!
For more details, click here>>
Please see before making a purchase
OFFICIAL SNS